About Us
Who We Are
Shred Now is a Southern California based company dedicating its services to home-based, commercial, and industrial clients. We are located in Westchester, Los Angeles at 8939 Sepulveda Blvd, Suite 340 between La Tijera Blvd and Westchester Parkway.

We understand that privacy is your top priority, and that is why we gurantee total destruction of any material that would jeopardize your rights to privacy. Identity theft has become the fastest growing crimes in the US and that is why more than ever we need to protect ourselves.
Shred Now is compliant with federal and state legislation. We are also bonded and insured. We strictly adhere to the code of ethics recommended by NAID (National Association of Information Destruction) among other commerce bodies .
ID Protection Compliant
Most ID theft crimes are the result of information stolen from a single improperly handled document containing personal information. Federal and state legislation now requires all businesses to take reasonable steps to destroy or arrange for destruction of consumer records that contain personal information to ensure security.
Paper shredding and safe document destruction and disposal are no longer an option considering the rising identity theft crisis and the legal litigation burdens that ensue. Shred Now recognizes your obligation in meeting this compliance challenge.  Several laws have been enacted to enforce safe document disposal and we are equipped to help you remain compliant.
Laws enacted to protect the privacy of businesses and individuals are such as:
FACTA (Fair and Accurate Transactions Act)
HIPAA (Health Insurance portability and Accountability Act)
Gramm-Leach-Bliley Act
Privacy Act of 1974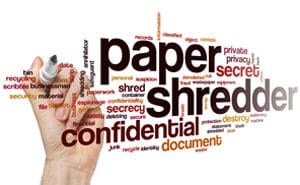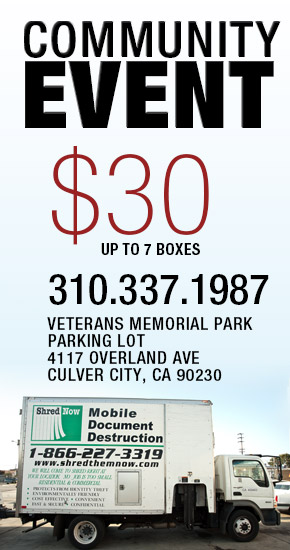 Convenience
Available for business or residential onsite document destruction.
Security
We are compliant with all laws and regulations for proper destruction of secure documents.
Clean for the Environment
All shredded remains are taken for recycling to help keep the environment clean.
Easy Scheduling
Come to us, or let us come to your location at a time convenient for you, or come to our regular community times for bulk discounts on our shredding services.
Security. Convenience.
Focus on Doing what you love and let us handle the shredding for you
Stop worrying about the hassle of proper and secure document destruction and let us handle it for you. With our safe and secure processes you can have the peace of mind to know that your business and client's information is being handled with to be in compliance with all the current regulations for information safety. 
Schedule a Service with us Today
we look forward to helping you with your secure document destruction needs.